We've all been there. The butterflies, the getting nervous when his name pops up on your phone, the way they make you smile... that's right we're talking crushes.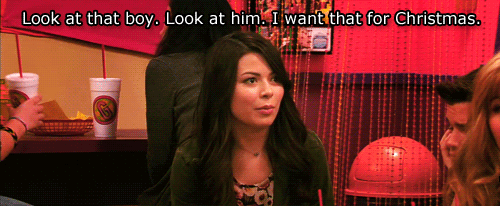 Maybe you're sitting in starbucks and look over to see a plaid wearing god holding a coffee and a snowman cookie and you are completely intrigued. Maybe he's your waiter and between him bringing you fish tacos and the check you completely swoon. Then you end up running out of the restaurant after paying because you don't want to be in the same vicinity as him because you left your number. (Yes that's a real life experience)...
We may be able to make our wish lists on wishbin but it would be a lot easier if you could also be like.... and him, I want him. Please and thanks. Okay now I sounds really creepy but if there could be twenty clones of Corey Cott or Jeremy Jordan or Channing Tatum... don't act like you wouldn't be interested.
It's that moment you just know and pray you have enough information (i.e. their name...) to move onto phase two....
Step Two: Internet Creepin: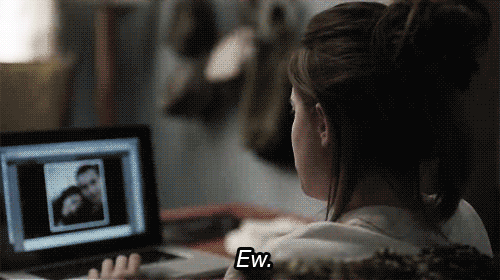 If you recall I once posted about some great Facebook interactions of my own)... either your stalking your crush, a friends crush, or the next thing you know you're stalking some random stranger after stalking five other random strangers before them and when it started it was all sooo innocent.
Then the worst comes and you accidentally request like five random people, while accidentally making your status that cute guys name and everyone now knows you're in love with that hot football player. That's never actually happened to me, but I bet it would.
I am a little ashamed to say that fb stalking is my specialty, I can find almost anyone knowing very little about them.
Also in the year 2014... you have access to plenty. You can basically google anything, anyone, any place... and find more than enough info. You are just innocently googling this guy you met to make sure he isn't you know a serial killer and before you know it you've seen his old myspace, pictures of his neighbors dog, randomly all his best friends face books, and his address... the internet is a scary place.
Step Three: The Big Moments (that aren't so big)
Y

ou are lying if you didn't (at least as a child- not like I did this two weeks ago) identify with taking a flower in your little hand and ripping out the petals one by one saying "he loves me." "He loves me not." And doing it over and over til you got he loves me.
When you find out that you have something in common, I mean sure it's just that you both like the same restaurant on Facebook but whatevs... it's a sign.
When you finally work up that courage and talk to them. I once wrote a whole blog post on how that goes. (just swimmingly) My personal fav is when they talk to you and you're so shocked you just walk away. Saying nothing. (yep. personal experience.)
When the two of you finally hang out and it's adorable and awesome. You go home and happy cry all night long while singing "A Lovely Night" from Rodger and Hammerstein's Cinderella.... nope just me. I'm dramatic....
Step Four: Confessing Your Love
You think it will go like this: sitting in a boat telling the person of your dreams how gorgeous, funny, talented, adorable, and everything imaginable they are but you're actually just talking to....
that last piece of cake in the fridge.
Moral of the story is we've all been there and in the end, all you actually need is
cake.